Keep your jewellery always shining bright like new.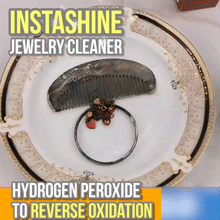 Always keep your jewellery looking like they were just bought, clean them with the InstaShine Jewelry Cleaner!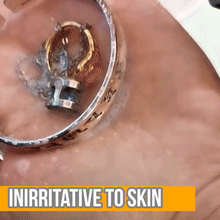 The InstaShine Jewelry Cleaner is an effective stain and dirt remover made of 100% safe ingredients that give an instant jewellery shine. With its wide applicable nature, you can safely clean your golds, pearls, and diamonds, and ensure getting a long-lasting shine.
FEATURES:
Stain & Dirt Remover:


Deeply cleans your jewellery and removes all dirt and stain that were accumulated during use.


Instant Shine:

No need to brush your jewellery thoroughly, soaking it with the formula will already give them instant shine.

Long-Lasting:
Prevents tarnishing and restores the shiny coating that lasts for 12 months.


100% Safe Ingredients:




The ammonia-free solution prevents the risk of damaging your jewellery.

Wide Applicable:




Safely cleans gold, platinum, sterling silver, stainless steel, diamonds, pearls, beads, porous stones, soft stones, treated gemstones, and many more.
SPECIFICATIONS:
Ingredients: Hydrogen Peroxide

Net content: 50mL

PACKAGE INCLUDES:
1x InstaShine Jewelry Cleaner
SHIPPING DELAY NOTICE:
Please be expected 2-4 weeks shipping delay due to High Volume of Order